The "Casper Society" Reunion 2012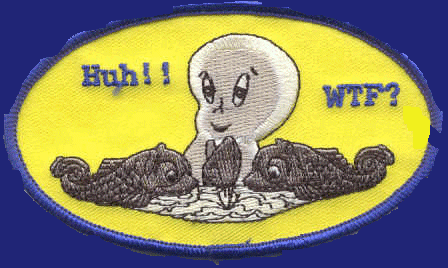 Casper Society Members at SubVets Banquet Saturday Night.
September 2-9, 2012
in conjunction with the
USSVI National Convention
in Norfolk, Virginia
There will be a Casper Society
SpookGroup Reunion of DirSup
Submarine Riders and
their support staff.
Yes You Can Do both!!
CWO Hollaway Presents CTM2 Hartnagel his Good Conduct Medal
On Fri 10/7/2011 at 10:08 PM

Bill Hollaway wrote:

This is an open invitation to all to join some of us in Norfolk, VA, 2-9 September 2012 for the annual USSVI (SubVets) National Convention. I have discussed and gotten affirmation that we are welcome to attend even if not members of the organization. You will have to pay all appropriate fees, e. g. lodging, registration, dinner banquet, tours, etc. A Plan of the Week and other details are posted at ussvi.org, click "conventions" and you're there. This is not an attempt to interfere with the NCVA, but just an idea for all to swap sea stories with someone who might appreciate and understand them. It is also a great opportunity to see those of us you spent so many exciting days and nights in company with so many years ago. Jerry Stump, Tommy Cox, Bill Lockert, Mike Varone, Robert "Bulge" Jordan and others are plannning to be there and hope you will join us. By the way, the first round is on the last one in the bar door on Thursday evening. Look forward to hearing from you and if you would please pass the word to all of our compadres.

Thanks,

Bill Hollaway

Pride Runs Deep
On Tue, Oct 18, 2011 at 8:23 AM
William Lockert wrote:

Hello Billy
I believe this could be a significant happening for everyone concerned....

...Hopefully, Hurricane season next year will be (so far) 2011, quiet in September. So I plan on being at the SubVets reunion with other Gents that served on the boats....

....Take care, I hope to see John Morgan COB and Hutchinson (Hutch) the night cook on Remora, Tully, COB on the Barb. Hopefully there will be some STIC riders, and CO's and XO's?

Can't wait.....

Cheers

Bill

*****************************

From: Al Ross
Sent: Wednesday, October 19, 2011 11:08 AM
To: William Lockert
Cc: others
Subject: Re: All CT DIRSUP Reunion

Life is about choices! I made mine. See you in Norfolk!

Al
**********************

From: Tommy Cox [mailto:tommycox@maine.rr.com]
Sent: Sunday, October 23, 2011 4:10 PM
To: email@SpookGroup.org
Subject: Re: All CT DIRSUP Reunion

Look forward to seeing you there, Stache. It's been a long time. Tommy

************************
So Here is the "I'm There!" List
NSGD PH 10/76-10/79,
NSGD Groton 10/79-10/81

Sunday 9/02

Tommy Cox 1967-'79 (see above)

Jerry Stump (see above)

probably the 5th or 6th

John Whitmire

Friday 9/07

Mike Varone (see above)

Robert "Bulge" Jordan
(see above)

Tentative - depends on schedule

Brian Ashpole, DIRSUP 1979 - 1984, Misawa and Northwest, POS 1 Op. I live in the Tidewater Area

John Paterson, CTMC 73 - 94

09/02/12

Steve Kozlovski CTTCS(SS/SW)

Wed 9/05 ?

Steve Hodnett, CTM2, NSGD Pearl, 73-79

Thu 09/06

9/2 or 9/6 Depends on schedule

Tony Fernando, CTM1/SS, NSGA Naples84-86, NSGA PH 86-89, SNIMA/OIT San Diego 89-93 & 96-99, SUBSCOL Grootn 93-96, NSGA Groton 99-03
Please submit your name and info to be added to the table above:
You must be signed up with them to participate in USSVI Convention happenings (including and especially the Hospitality Room)
Yes, Yes you can do both!!